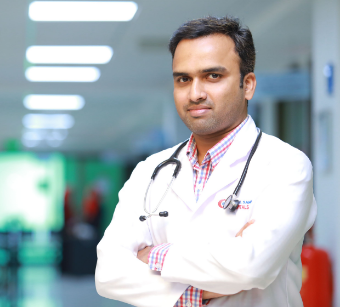 Dr Mohammad Shafi
Specialist
Paediatrics & Neonatology
MBBS, MD
Falaj Al Qabail (Oman)
About Dr Mohammad Shafi
Dr Mohammad Shafi is a specialist Paediatrician and Neonatologist. He is highly experience in managing high risk neonatal patients, having headed a high-level NICU in the past. He can also be relied on for best results in paediatric emergencies. Dr Mohammad Shafi is also efficient in growth and development management of paediatric patients. He can be relied upon to render efficient care for normal diseases and conditions associated with childhood including seasonal allergies, asthma and acute infections. He regularly attends conferences and workshops to stay abreast with the latest diagnostic and treatment trends.

Excellence & Experience
Area of excellence
Managing High risk neonates
Paediatric emergencies
Paediatric allergy
Paediatric pulmonology (chest diseases in children)
Level of Experience
Dr Mohammad Shafi has served in medical colleges and various corporate hospitals in India.
He has headed high-level NICUs, for high risk neonates and PICU with high risk paediatric cases
Out Patient Timings
The outpatient timings at Badr Al Samaa Hospitals have been planned in such a way that your choice of doctor is available whenever you are free.
Sunday
9:00 AM - 1:00 PM
Ruwi - Oman
6:00 PM - 10:00 PM
Ruwi - Oman
Monday
9:00 AM - 1:00 PM
Ruwi - Oman
6:00 PM - 10:00 PM
Ruwi - Oman
Tuesday
9:00 AM - 1:00 PM
Ruwi - Oman
6:00 PM - 10:00 PM
Ruwi - Oman
Wednesday
9:00 AM - 1:00 PM
Ruwi - Oman
6:00 PM - 10:00 PM
Ruwi - Oman
Thursday
9:00 AM - 1:00 PM
Ruwi - Oman
6:00 PM - 10:00 PM
Ruwi - Oman
Friday
9:00 AM - 1:00 PM
Ruwi - Oman
6:00 PM - 10:00 PM
Ruwi - Oman
Saturday
9:00 AM - 1:00 PM
Ruwi - Oman
6:00 PM - 10:00 PM
Ruwi - Oman