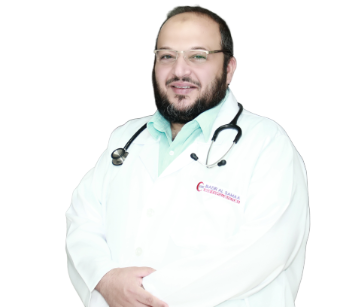 DR Rifaat Al Daghir
MBChB, CABM, Cardiology
Internal Medicine - Cardiology
25 years of experience
Falaj Al Qabail (Oman)
About DR Rifaat Al Daghir
Dr Rifaat Al Daghir is an outstanding Specialist in Internal Medicine and Cardiology with over 15 years of clinical experience in her chosen field. She also has interest in academia and has over 10 years of teaching experience in Tikrit Medical College, training to both under graduates and postgraduate doctors in Internal Medicine, Cardiology and Echocardiography. She is an expert in the management of acute and critical cases in the OP as well as the emergency section, dispensing timely diagnosis and therapy. She is highly skilled in managing serious patients in the ICU too. She is a member of many organisations too.

Excellence & Experience
Area of excellence
Internal medicine
Cardiology
Echocardiography
Medical education
Level of Experience
Professor of Medicine and Cardiology - Tikrit Teaching Hospital, Tikrit Medical College Iraq – 2004-2015
Consultant Internist - Tikrit Teaching Hospital, Tikrit Medical College - 2004- 2015
Consultant Internist and Cardiologist - Al Shifa Medical Centre, Mersin/Turkey - 2015- 2016
Specialist Internist – Badr Al Samaa Hospitals, Oman - 2017 till date
Awards & Academics
Academics Details
Diploma (Echocardiography) - Vienna University
CABM (Internal Medicine) - Arabic Board & Medical Specialization - 2004
MBChB - Basrah University - 1997
Videos of DR Rifaat Al Daghir
You can get to know more details here about the doctor who will be treating you, and their professional expertise in their field of specialisation.
Top Procedures Done By DR Rifaat Al Daghir
Out Patient Timings
The outpatient timings at Badr Al Samaa Hospitals have been planned in such a way that your choice of doctor is available whenever you are free.
Sunday
9:00 AM - 1:00 PM
Falaj Al Qabail - Oman
6:00 PM - 10:00 PM
Falaj Al Qabail - Oman
Monday
9:00 AM - 1:00 PM
Falaj Al Qabail - Oman
6:00 PM - 10:00 PM
Falaj Al Qabail - Oman
Tuesday
9:00 AM - 1:00 PM
Falaj Al Qabail - Oman
6:00 PM - 10:00 PM
Falaj Al Qabail - Oman
Wednesday
9:00 AM - 1:00 PM
Falaj Al Qabail - Oman
6:00 PM - 10:00 PM
Falaj Al Qabail - Oman
Thursday
9:00 AM - 1:00 PM
Falaj Al Qabail - Oman
6:00 AM - 10:00 PM
Falaj Al Qabail - Oman
Friday
Saturday
9:00 AM - 1:00 PM
Falaj Al Qabail - Oman
6:00 AM - 10:00 PM
Falaj Al Qabail - Oman
Blogs Written by DR Rifaat Al Daghir