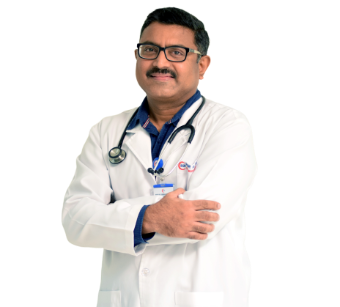 DR JOE MATHEW
Specialist Ophthalmologist
Ophthalmology
MBBS, DO
15 years of experience
Falaj Al Qabail (Oman)
About DR JOE MATHEW
Dr Joe Mathew is an Ophthalmologist par excellence with more than 15 years of experience in his speciality. He has good clinical acumen and is well versed in the diagnosis and management of all routine outpatient cases including Ophthalmic Emergencies. He is highly proficient in ophthalmic procedures like refraction, extra-ocular surgeries, YAG laser applications, Glaucoma screening and dilated fundus examination for the diagnosis of posterior pole and peripheral retinal conditions. Dr Mathew has attended several conferences to keep himself updated of the latest developments and conducted several camps under the aegis of National Programme for Control of Blindness in India.

Excellence & Experience
Area of excellence
Refraction
Indirect Ophthalmology with Scleral Indentation
Comprehensive Slit lamp Biomicroscopy
Incision and Curettage
Extra-Ocular Surgeries like Pterygium Excision with Conjunctival Autograft, Tarsorraphy, and Lid Tear Repair.
Level of Experience
Dr. Joe has served in several Institutional and Corporate hospitals in India with special reference to Joseph Eye Hospital, The Eye Foundation (Coimbatore) and Vasan Eye Care Hospital (Kochi). He has been associated with Badr Al Samaa Group of Hospitals and Polyclinics since March 2013.
Awards & Academics
Academics Details
Short term Fellowship in Retinal Lasers - L V Prasad Eye Institute, Hyderabad, India - October 2005
Fellowship in Community Ophthalmology (FICO) - Institute Of Ophthalmology, Joseph Eye Hospital, Tiruchirappalli, TamilNadu, India - September 2003
Diploma in Ophthalmology (DO) - Sri Ramachandra Medical College and Research Institute, Chennai, India - June 2002
MBBS – Kasturba Medical College, Mangalore, India - September 1999
Out Patient Timings
The outpatient timings at Badr Al Samaa Hospitals have been planned in such a way that your choice of doctor is available whenever you are free.
Sunday
9:00 AM - 1:00 PM
Falaj Al Qabail - Oman
5:00 PM - 9:00 PM
Falaj Al Qabail - Oman
Monday
9:00 AM - 1:00 PM
Falaj Al Qabail - Oman
5:00 PM - 9:00 PM
Falaj Al Qabail - Oman
Tuesday
9:00 AM - 1:00 PM
Falaj Al Qabail - Oman
5:00 PM - 9:00 PM
Falaj Al Qabail - Oman
Wednesday
9:00 AM - 1:00 PM
Falaj Al Qabail - Oman
5:00 PM - 9:00 PM
Falaj Al Qabail - Oman
Thursday
9:00 AM - 1:00 PM
Falaj Al Qabail - Oman
5:00 PM - 9:00 PM
Falaj Al Qabail - Oman
Friday
Saturday
9:00 AM - 1:00 PM
Falaj Al Qabail - Oman
5:00 PM - 9:00 PM
Falaj Al Qabail - Oman