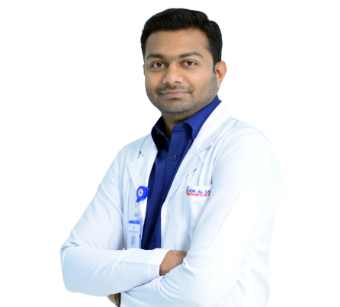 DR BEN CHITHAN
Specialist Radiologist
Radiology
MBBS, MD
Falaj Al Qabail (Oman)
About DR BEN CHITHAN
Dr. Ben Chithan is a Radiologist with vast experience in Diagnostic Radiology. He has worked in distinguished corporate medical college hospitals and tertiary care centers in Kerala, India, handling MRI, CT, USG, and conventional radiological investigations. He is proficient in USG-guided procedures and basic CT-guided procedures. He has attended many conferences and workshops in obstetric ultrasonography and has experience in working as specialist gastro-radiologist in India. Dr Ben is very academically oriented and has won numerous accolades during his education and practice. He is currently pursuing higher degrees and fellowships.
Excellence & Experience
Area of excellence
Sound knowledge of radiological Anatomy and Pathology
Proficient in MRI, CT, Ultrasound including Doppler, Mammography and conventional Radiological Investigations
Has performed numerous USG and CT-guided procedures
Special interest in precision Ultrasound-guided thyroid FNACs, Gastro Radiology Musculoskeletal Radiology and Obstetric USGs
Level of Experience
Worked as Consultant Radiologist in Sree Gokulam Medical College and Research Foundation – A Multi specialty Corporate Hospital and Teaching Institute, Venjaramoodu, Trivandrum
Worked as Resident and Consultant Radiologist in Dr SMCSI Medical College, Kerala - A Multi- specialty tertiary care center and Teaching Institute, Karakonam, Tamil Nadu
Awards & Academics
Academics Details
MD (Radiodiagnosis) - Dr Somervel Memorial CSI Medical College, Kerala University of Health Sciences, Trivandrum, India
MBBS - Govt. T.D. Medical College, Alappuzha, Kerala, India
Out Patient Timings
The outpatient timings at Badr Al Samaa Hospitals have been planned in such a way that your choice of doctor is available whenever you are free.
Sunday
9:00 AM - 1:00 PM
Falaj Al Qabail - Oman
5:00 PM - 9:00 PM
Falaj Al Qabail - Oman
Monday
9:00 AM - 1:00 PM
Falaj Al Qabail - Oman
5:00 PM - 9:00 PM
Falaj Al Qabail - Oman
Tuesday
9:00 AM - 1:00 PM
Falaj Al Qabail - Oman
5:00 PM - 9:00 PM
Falaj Al Qabail - Oman
Wednesday
9:00 AM - 1:00 PM
Falaj Al Qabail - Oman
5:00 PM - 9:00 PM
Falaj Al Qabail - Oman
Thursday
9:00 AM - 1:00 PM
Falaj Al Qabail - Oman
5:00 PM - 9:00 PM
Falaj Al Qabail - Oman
Friday
Saturday
9:00 AM - 1:00 PM
Falaj Al Qabail - Oman
5:00 PM - 9:00 PM
Falaj Al Qabail - Oman