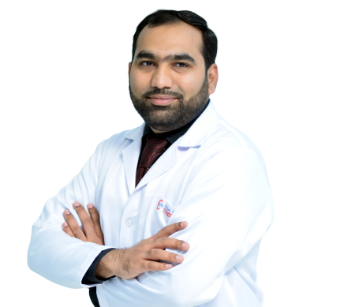 DR DANISH SARDAR
MBBS, MD, Paediatrics & Neonatology
Specialist
6 years of experience
Falaj Al Qabail (Oman)
About DR DANISH SARDAR
Dr Danish Sardar is a passionate Consultant Pediatrician who loves to bond with his small patients and practices child care with compassion. A knowledge seeker with six years of experience after specialization in Pediatrics, he is always in the quest to learn more in his chosen field. To keep himself abreast of latest developments, he attends conferences and Workshops whenever possible. He adds value to Badr Al Samaa Hospital with his earlier training and exposure in prime Medical Colleges in India.
Excellence & Experience
Level of Experience
Six years of experience working with Pediatric patients
Awards & Academics
Academics Details
MBBS
MD (Pediatrics) – MGM Medical College, Mumbai - 2012
Videos of DR DANISH SARDAR
You can get to know more details here about the doctor who will be treating you, and their professional expertise in their field of specialisation.
Top Procedures Done By DR DANISH SARDAR
Out Patient Timings
The outpatient timings at Badr Al Samaa Hospitals have been planned in such a way that your choice of doctor is available whenever you are free.
Sunday
9:00 AM - 1:00 PM
Falaj Al Qabail - Oman
5:00 PM - 9:00 PM
Falaj Al Qabail - Oman
Monday
9:00 AM - 1:00 PM
Falaj Al Qabail - Oman
5:00 PM - 9:00 PM
Falaj Al Qabail - Oman
Tuesday
9:00 AM - 1:00 PM
Falaj Al Qabail - Oman
5:00 PM - 9:00 PM
Falaj Al Qabail - Oman
Wednesday
9:00 AM - 1:00 PM
Falaj Al Qabail - Oman
5:00 PM - 9:00 PM
Falaj Al Qabail - Oman
Thursday
9:00 AM - 1:00 PM
Falaj Al Qabail - Oman
5:00 PM - 9:00 PM
Falaj Al Qabail - Oman
Friday
Saturday
9:00 AM - 1:00 PM
Falaj Al Qabail - Oman
5:00 PM - 9:00 PM
Falaj Al Qabail - Oman
Blogs Written by DR DANISH SARDAR