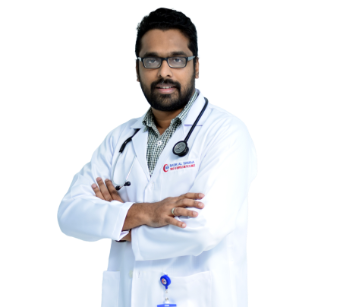 Dr SOMNATH S KUMAR
Specialist Internist
Internal Medicine
MBBS, MD
6 years of experience
Falaj Al Qabail (Oman)
About Dr SOMNATH S KUMAR
Dr Somnath S Kumar is highly experienced in a variety of settings and with patients of all age groups. He is an expert in Non-communicable Diseases, Infectious Diseases and Tropical Diseases. He is committed to providing compassion and excellent care towards all his patients, maintaining high standards in patient care. With a solid background in pharmacology, Dr Somnath is proficient in the treatment of many conditions including Lifestyle Diseases, Infectious Diseases, Critical Care, Clinical Neurology, Headache Evaluation, etc. He also has a keen interest in research work and has published articles in prestigious journals.
Excellence & Experience
Area of excellence
Critical Care - Ventilator use, Central Catheter Insertion
Infectious diseases
Life style diseases – Hypertension and Diabetes
Clinical Cardiology
Anemia Evaluation
Headache Evaluation
Pyrexia of unknown origin
Clinical Neurology
Dyspepsia
Level of Experience
2 years of experience working in Internal Medicine.
Awards & Academics
Academics Details
MBBS – Government Medical College, Trivandrum - 2010
MD (Internal Medicine) – Government Medical College, Trivandrum - 2016
Out Patient Timings
The outpatient timings at Badr Al Samaa Hospitals have been planned in such a way that your choice of doctor is available whenever you are free.
Sunday
8:30 AM - 12:30 PM
Falaj Al Qabail - Oman
5:00 PM - 9:00 PM
Falaj Al Qabail - Oman
Monday
8:30 AM - 12:30 PM
Falaj Al Qabail - Oman
5:00 PM - 9:00 PM
Falaj Al Qabail - Oman
Tuesday
8:30 AM - 12:30 PM
Falaj Al Qabail - Oman
5:00 PM - 9:00 PM
Falaj Al Qabail - Oman
Wednesday
8:30 AM - 12:30 PM
Falaj Al Qabail - Oman
5:00 PM - 9:00 PM
Falaj Al Qabail - Oman
Thursday
8:30 AM - 12:30 PM
Falaj Al Qabail - Oman
5:00 PM - 9:00 PM
Falaj Al Qabail - Oman
Friday
Saturday
8:30 AM - 12:30 PM
Falaj Al Qabail - Oman
5:00 PM - 9:00 PM
Falaj Al Qabail - Oman