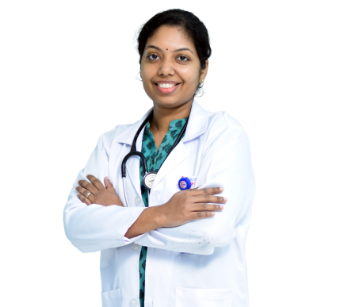 Dr SWATHY LEKSHMI J L
Specialist Dermatologist
Dermatology
MBBS, MD
6 years of experience
Falaj Al Qabail (Oman)
About Dr SWATHY LEKSHMI J L
Dr Swathy Lekshmi is a Dermatologist with extensive knowledge and outstanding diagnostic skills which she employs to treat a wide variety of skin diseases. She is fully versed in the use of the latest skin practices and skin care with the ability to deliver effective treatment for a full recovery. She has received comprehensive training in performing skin surgeries and cosmetic procedures like chemical peeling, various laser treatments, PRP therapy and Botox. She has attended many dermatology conferences and workshops and presented a paper at the prestigious DAAS Summit in Delhi, 2016.
Excellence & Experience
Area of excellence
Clinical Dermatology - Psoriasis, Drug Reaction, Occupational Dermatoses, Vesiculobullous Disorders, Pediatric Dermatology
Dermatological Procedures - Cryotherapy, RF-based surgical procedures, ILS, PRP, Peeling, CO2 Laser, Nd: YAG Laser, Carbon peel, Er: YAG Laser
Level of Experience
2 years of experience working in Dermatology.
Awards & Academics
Academics Details
MBBS – Government Medical College, Trivandrum – 2010
MD (Dermatology) – Government Medical College, Trivandrum – 2016
Out Patient Timings
The outpatient timings at Badr Al Samaa Hospitals have been planned in such a way that your choice of doctor is available whenever you are free.
Sunday
9:00 AM - 1:00 PM
Falaj Al Qabail - Oman
5:00 PM - 9:00 PM
Falaj Al Qabail - Oman
Monday
9:00 AM - 1:00 PM
Falaj Al Qabail - Oman
5:00 PM - 9:00 PM
Falaj Al Qabail - Oman
Tuesday
9:00 AM - 1:00 PM
Falaj Al Qabail - Oman
5:00 PM - 9:00 PM
Falaj Al Qabail - Oman
Wednesday
9:00 AM - 1:00 PM
Falaj Al Qabail - Oman
5:00 PM - 9:00 PM
Falaj Al Qabail - Oman
Thursday
9:00 AM - 1:00 PM
Falaj Al Qabail - Oman
5:00 PM - 9:00 PM
Falaj Al Qabail - Oman
Friday
Saturday
9:00 AM - 1:00 PM
Falaj Al Qabail - Oman
5:00 PM - 9:00 PM
Falaj Al Qabail - Oman